Claiming Rewards¶
SNX stakers (aka minters, aka issuers) get staking rewards each week, in the form of sUSD trading fees and SNX inflationary rewards (see incentives for more information).
In Mintr, this is how they perform the task: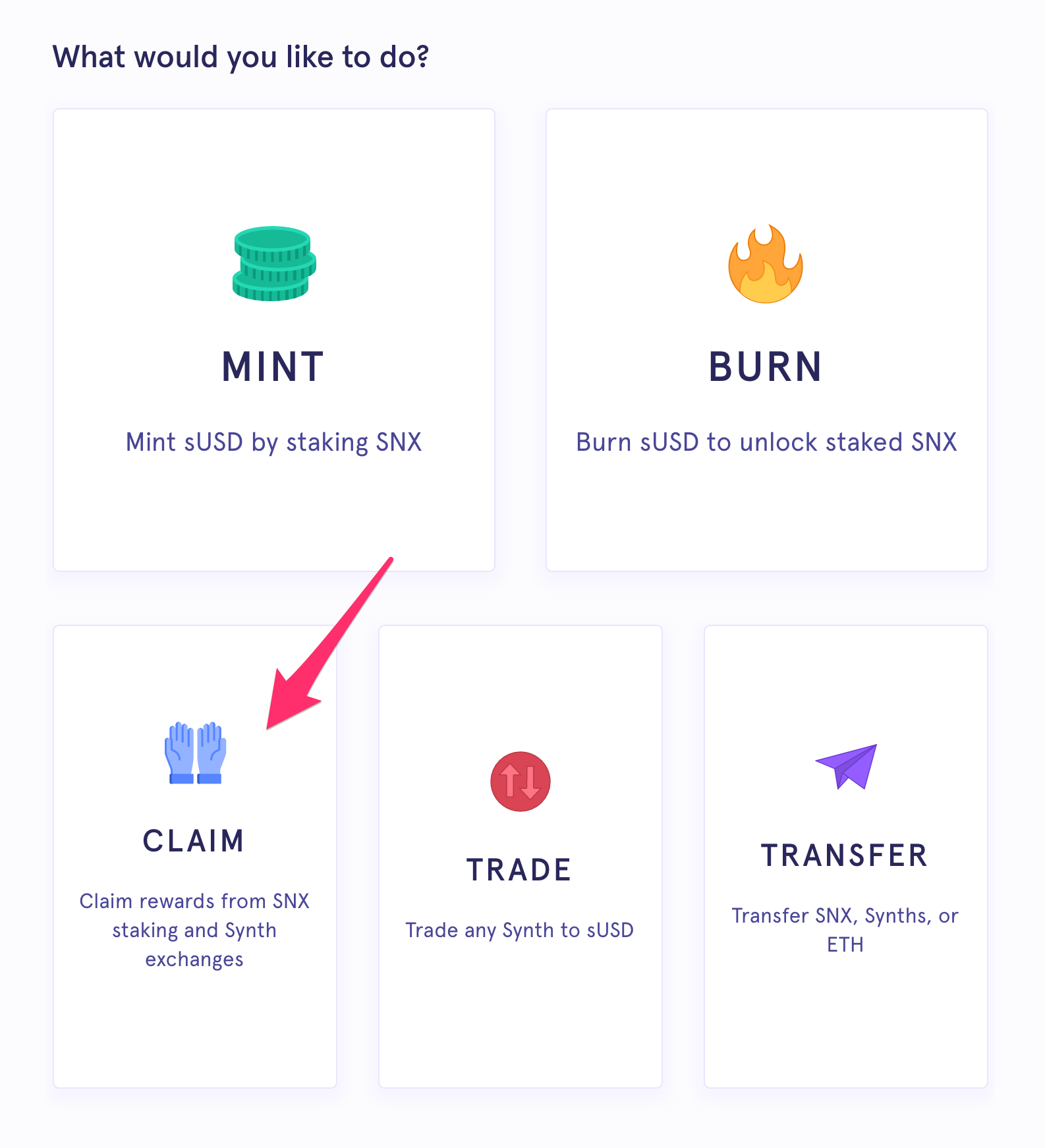 Via the contracts, the process is as follows:
API¶
Contract¶
Use the Proxies
Note: The transaction's to parameter can be to either the proxy or the underlying, however two things are worth noting:
the underlying is subject to change (and does most releases); and
the events will always be emitted on the proxy, regardless of the to parameter in the transaction.
For best results, always interact with the proxy using the ABI of the underlying.
Destination contract (address): ProxyFeePool
Underlying contract (ABI): FeePool
Methods¶
Events Emitted¶
On a successful transaction, the following events occur:
| name | emitted on | address from | address to | uint value |
| --- | --- | --- | --- | --- |
| Transfer | ProxysUSD | FEE_ADDRESS | to 0x0 | amount of sUSD |
| name | emitted on | address from | address to | uint value |
| --- | --- | --- | --- | --- |
| Transfer | ProxysUSD | 0x0 | msg.sender (or user) | amount of sUSD |
| name | emitted on | address account | uint value |
| --- | --- | --- | --- |
| Issued | ProxysUSD | msg.sender (or user) | amount of sUSD |
name
emitted on
address beneficiary
uint time
uint value
VestingEntryCreated
RewardEscrow
msg.sender
(or user)
now
amount of SNX rewards
| name | emitted on | address account | uint sUSDAmount | uint snxRewards |
| --- | --- | --- | --- | --- |
| FeesClaimed | ProxyFeePool | msg.sender (or user) | sUSDAmount | snxRewards |
Examples from Mainnet¶
---
Code Snippets¶
Claiming
 1
 2
 3
 4
 5
 6
 7
 8
 9
10
11
12
13
14
15
16
17
18
19
20
21
22
23
24
25
26
27

const

 

{

 

SynthetixJs

 

}

 

=

 

require

(

'synthetix-js'

);




const

 

privateKey

 

=

 

'0x'

 

+

 

'1'

.

repeat

(

64

);

 

// don't actually put a private key in code obviously





// parameters: default provider, default networkId, private key as a string




const

 

networkId

 

=

 

3

;

 

// ropsten, (use 1 for mainnet)




const

 

signer

 

=

 

new

 

SynthetixJs

.

signers

.

PrivateKey

(

null

,

 

networkId

,

 

privateKey

);




const

 

snxjs

 

=

 

new

 

SynthetixJs

({

 

signer

,

 

networkId

 

});





(

async

 

()

 

=>

 

{


  

try

 

{


    

// send transaction


    

const

 

txn

 

=

 

await

 

snxjs

.

FeePool

.

claimFees

();



    

console

.

log

(

'hash is mining'

,

 

txn

.

hash

);



    

// wait for mining


    

await

 

txn

.

wait

();



    

// fetch logs of transaction


    

const

 

{

 

logs

 

}

 

=

 

await

 

signer

.

provider

.

getTransactionReceipt

(

txn

.

hash

);



    

// show them


    

console

.

log

(

JSON

.

stringify

(

logs

,

 

null

,

 

'\t'

));


  

}

 

catch

 

(

err

)

 

{


    

console

.

log

(

'Error'

,

 

err

);


  

}




})();



 1
 2
 3
 4
 5
 6
 7
 8
 9
10
11
12
13
14
15
16
17
18
19
20
21
22
23
24
25
26
27
28
29
30
31
32
33
34
35
36
37
38

const

 

synthetix

 

=

 

require

(

'synthetix'

);

 

// nodejs




const

 

ethers

 

=

 

require

(

'ethers'

);

 

// nodejs




// or using ES modules:




// import synthetix from 'synthetix';




// import ethers from 'ethers';





const

 

network

 

=

 

'ropsten'

;




const

 

provider

 

=

 

ethers

.

getDefaultProvider

(

network

 

===

 

'mainnet'

 

?

 

'homestead'

 

:

 

network

);





const

 

{

 

abi

 

}

 

=

 

synthetix

.

getSource

({


  

network

,


  

contract

:

 

'FeePool'

,




});




const

 

{

 

address

 

}

 

=

 

synthetix

.

getTarget

({


  

network

,


  

contract

:

 

'ProxyFeePool'

,




});





const

 

privateKey

 

=

 

'0x'

 

+

 

'1'

.

repeat

(

64

);

 

// don't actually put a private key in code obviously




const

 

signer

 

=

 

new

 

ethers

.

Wallet

(

privateKey

).

connect

(

provider

);





// see https://docs.ethers.io/ethers.js/html/api-contract.html#connecting-to-existing-contracts




const

 

FeePool

 

=

 

new

 

ethers

.

Contract

(

address

,

 

abi

,

 

signer

);





(

async

 

()

 

=>

 

{


  

try

 

{


    

// send transaction


    

const

 

txn

 

=

 

await

 

FeePool

.

claimFees

();


    

// wait for mining


    

await

 

txn

.

wait

();


    

// fetch logs of transaction


    

const

 

{

 

logs

 

}

 

=

 

await

 

provider

.

getTransactionReceipt

(

txn

.

hash

);


    

// display


    

console

.

log

(

JSON

.

stringify

(

logs

,

 

null

,

 

'\t'

));


  

}

 

catch

 

(

err

)

 

{


    

console

.

log

(

'Error'

,

 

err

);


  

}




})();



 1
 2
 3
 4
 5
 6
 7
 8
 9
10
11
12
13
14
15
16
17
18
19
20
21
22
23
24
25
26
27
28
29
30
31
32
33

pragma solidity

 

0.5.16

;





import

 

"synthetix/contracts/interfaces/IAddressResolver.sol"

;




import

 

"synthetix/contracts/interfaces/IFeePool.sol"

;





contract

 

MyContract

 

{





    

// This should be instantiated with our ReadProxyAddressResolver




    

// it's a ReadProxy that won't change, so safe to code it here without a setter




    

// see https://docs.synthetix.io/addresses for addresses in mainnet and testnets




    

IAddressResolver

 

public

 

synthetixResolver

;





    

constructor

(

IAddressResolver

 

_snxResolver

)

 

public

 

{




        

synthetixResolver

 

=

 

_snxResolver

;




    

}





    

function

 

synthetixClaim

()

 

external

 

{




      

IFeePool

 

feePool

 

=

 

synthetixResolver

.

getAddress

(

"FeePool"

);




      

require

(

feePool

 

!=

 

address

(

0

),

 

"FeePool is missing from Synthetix resolver"

);





      

// Claim as msg.sender = address(MyContractd)




      

feePool

.

claimFees

();




    

}





    

function

 

synthetixClaimOnBehalf

(

address

 

user

)

 

external

 

{




        

IFeePool

 

feePool

 

=

 

synthetixResolver

.

getAddress

(

"FeePool"

);




        

require

(

feePool

 

!=

 

address

(

0

),

 

"FeePool is missing from Synthetix resolver"

);





        

// Note: this will fail if `DelegateApprovals.approveClaimOnBehalf(address(MyContract))` has




        

// not yet been invoked by the `user`




        

feePool

.

claimOnBehalf

(

user

);




    

}




}